Payment Method
Currently, you can pay using Visa, Amex, MasterCard, Discover, eCheck, Western Union, WebMoney and Bank Transfer. More payment options will be available on Bravotti in the future.








We strongly recommend that you pay for your order with Paypal on Bravotti.com, because have some dvantages with using PayPal:
With PayPal, you can send payment quickly and securely online.
Through PayPal, you can pay with credit card, debit card, or bank account balance.
Once your order is submitted, you will be redirected to PayPal's site where you could make the payment and it is safer.
Payment is traceable. You can trace the status of your payment using your PayPal account.
Payment does not require you to use your credit card online (you can transfer directly from your bank account). Bravotti does not see your credit card number (it is safely encrypted through PayPal's server), which limits the risk unauthorized use.
How do I pay with my bank account, debit or credit card, or Paypal credit?
When placing your order, select "PayPal" payment method option, you will be redirected to PayPal's site where you could make the payment. Then simply follow the on-screen instructions:
Select the second way to pay on the bottom of the login form, and then click "Pay with an online bank account, debit or cradit card, or Paypal Credit":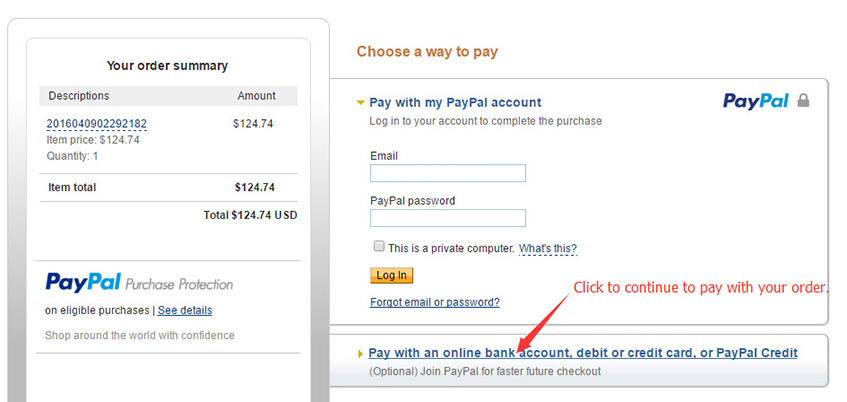 How do I pay with Western Union?
Simply bring your cash payment in local currency (where applicable) to a participating Western Union? Agent location, and complete the Payment Services /Quick Pay form (also known as the Blue Form). Within minutes, you will receive a notification indicating your payment is completed. A small fee is charge for this service.

NOTICE: Please email your ORDER NUMBER, WESTERN UNION CONTROL NUMBER, ORDER AMOUNT, SENDER'S FIRST and LAST NAME, SENDER'S ADDRESS, STATE and COUNTRY, and SENDER'S PHONE NUMBER TO sale@bravotti.com after you send payment through Western Union.